Probiotic Market 2021 and Trend Analysis
The global market of probiotic supplements is valued at US$ 6.970,1 million in 2021 and is projected to grow 3,75% on average in the forecast period 2021-2026. The global market of probiotic yoghurt, plain, flavored & drinking yoghurts reached US$ 33.248 million in 2021, with a projected growth of 2,7% in 2021-2026. Sour milk products also confirmed the positive trend of the previous years, with a growth in US$ 7.418 million in 2021, from 6.617 million USD in 2019, and a projected 3,0% growth on average in the forecast period 2021-2026.
Factors affecting the growth of the probiotics market in 2020 and 2021
The increasing prominence of preventive healthcare is among the major factors propelling the demand for probiotics across the globe. The demand for liquid probiotics (yoghurt and dairy based drinks) is projected to continue to dominate the probiotics market. Also the demand for probiotic supplements has been spurred by the growing aging population – and increased consumer interest in preventive healthcare.
The COVID-19 pandemic has led to a shift in purchasing behaviour of consumers, with e-commerce sales climbing to US$ 1,5 billion, which ultimately affect the sales in shops. 
---
The European Probiotic Market overview: Insights 2018-2021 for probiotic supplements, probiotic yogurt, and sour milk products
(Source: IPA data, elaborated on Euromonitor International data and Lumina International for on-online sales).
Background: After the end of the transition period for the entry into force of the Nutrition and Health Claim Regulation in 2009, the European market reported a significant loss in projected sales. During the same period, double digit growth in probiotic sales has been recorded elsewhere in the world.
Since 2018, the situation in the EU evolved. Some EU country issued national guidances and different interpretations were foreseen. More European countries started to be tolerant on the use of the term 'probiotic' in food and food supplements on label and in communication (with no reference to a specific health benefit). The positive market results in the EU reflect the increased use of the term 'probiotic' in several European countries.
This evolution whas been certainly influenced by consumer demand, but also by the increasing scientific data on the influence of diets and supplements in controlling and restoring the unbalanced gut microbiota, and the recognition that the microbiota plays a vital role in the sustainability of health and in the potential prevention of disease.
The European market in 2018 was 8.618,9 EUR million, reaching 9.401,6 EUR million in 2021. The growth rate of the European Market is 9,08% for the period 2018-2021.
Probiotic Supplements
The European probiotic supplements market was valued 1.464 EUR million in 2021, close to 25% of the global value, and with a forecast growth rate of 3% for the period 2021-2026. In 2020, during the Covid19 crisis, the market experimented a shift to e-commerce sales, which is continuing in 2021. With the additional sales generated on e-commerces of 190 EUR million, Europe reaches in 2021 1.654 EUR Million.
Italy is the 3rd largest market in the world, with 560,5 EUR million of sales of probiotic supplements in 2021 and a forecast growth of 5% for the period 2021-2026. The market size in United Kingdom is also maintaining a good evolution, from 34 EUR million in 2018 it has reached 50,6 EUR million in 2021.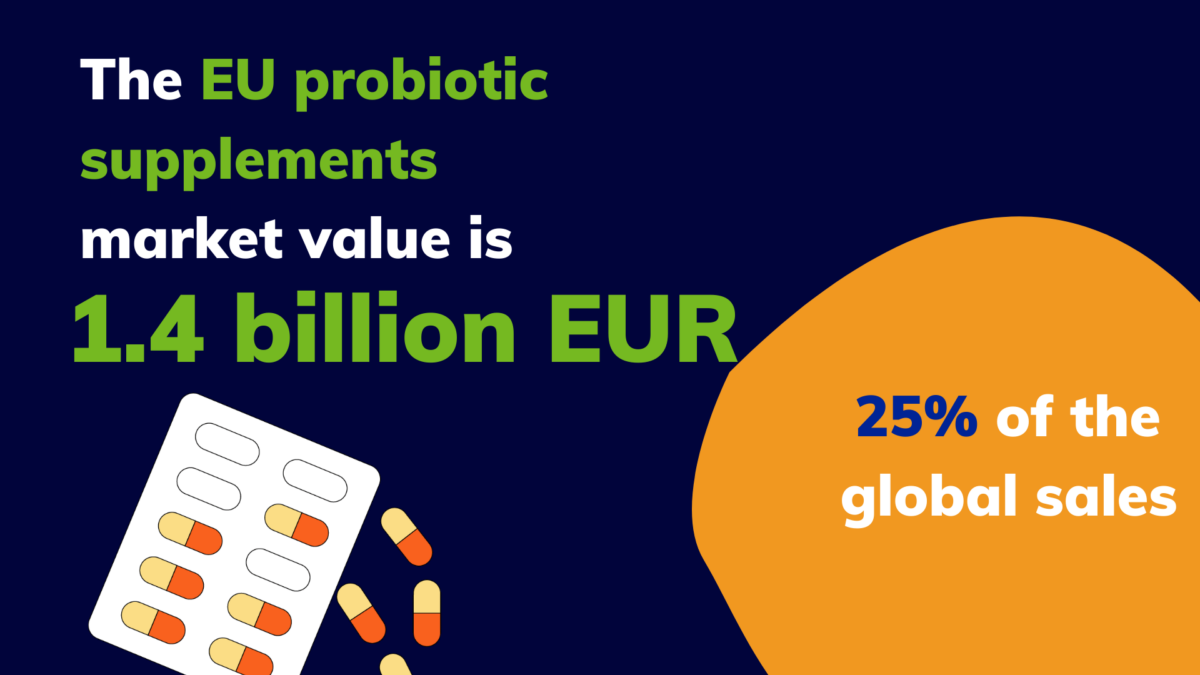 Italy Germany and France together have a market size of 775,6 EUR million, 64% of the EU sales, with positive expectations of growth.
The online sales of probiotic supplements are driven by Europe in 2021, with a value of US$ 225 million (190 EUR million with average exchange rate of 2021).
Probiotic Yoghurts, Plain, Flavored & Drinking Yoghurts
In the global scale, Europe ranks 2nd after Asia Pacific. The European market was valued 4.674 EUR million in 2018, and reached 5001,5 EUR million in 2021 (+7%). Eastern European countries are also showing a positive evolution from 897,9 EUR million in 2018 to 992 EUR million in 2021.
Among the European countries, UK is the first country in Western Europe with a value of 1.051,9 EUR million in 2021. Italy shows a constant growth from 425,3 EUR million in 2018 to 490,1 EUR million in 2021. This is also the case for Spain, from 643,9 EUR million in 2018 to 673,2 EUR million in 2021. Spain, Italy, Germany and France totalize 39,3% of the European market.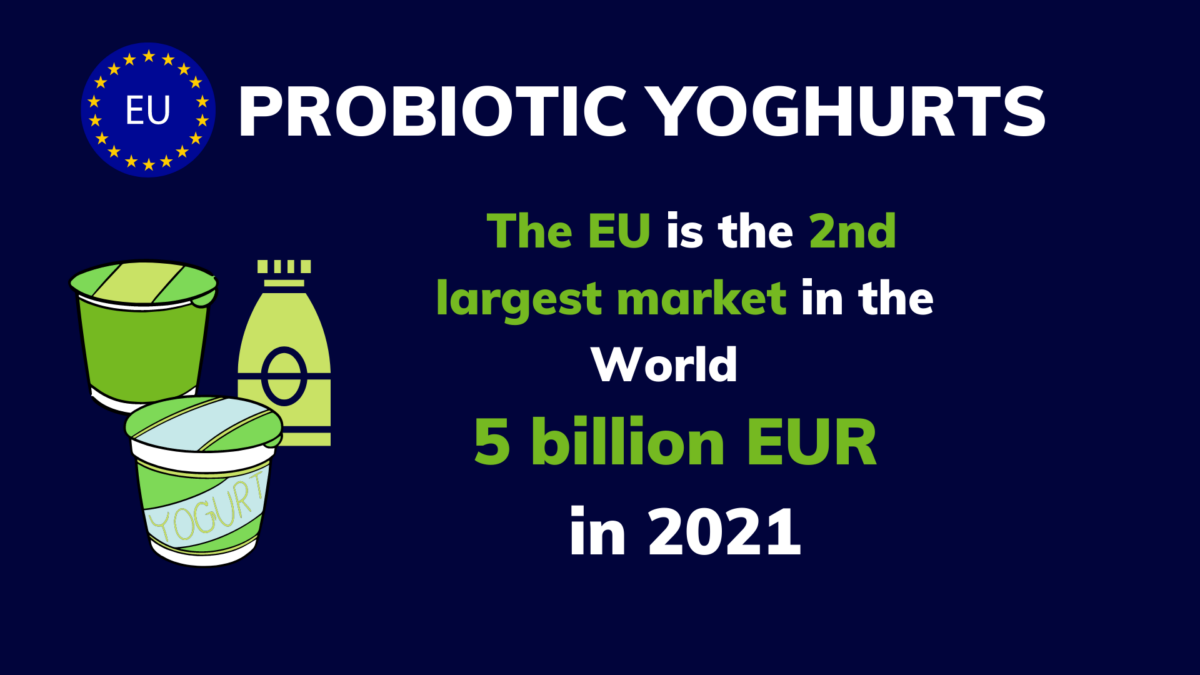 The Sour milk market is dynamic and shows a positive trend at European level
Europe is made of many well-developed sour milk product markets spread across the East and West. Globally, over 47% of sour milk products are consumed in this continent. The European pattern illustrates a steady increase from 2018 with 2.583,8 EUR million to 2.936,1 EUR million in 2021. 
Overall, growth in Europe is expected to be positive in the forecast. In Eastern Europe, Poland shows a steady increase from 2018 to 2021 for sour milk products. Its market size went from 114,2 EUR million in 2018 to 146,2 EUR million in 2021.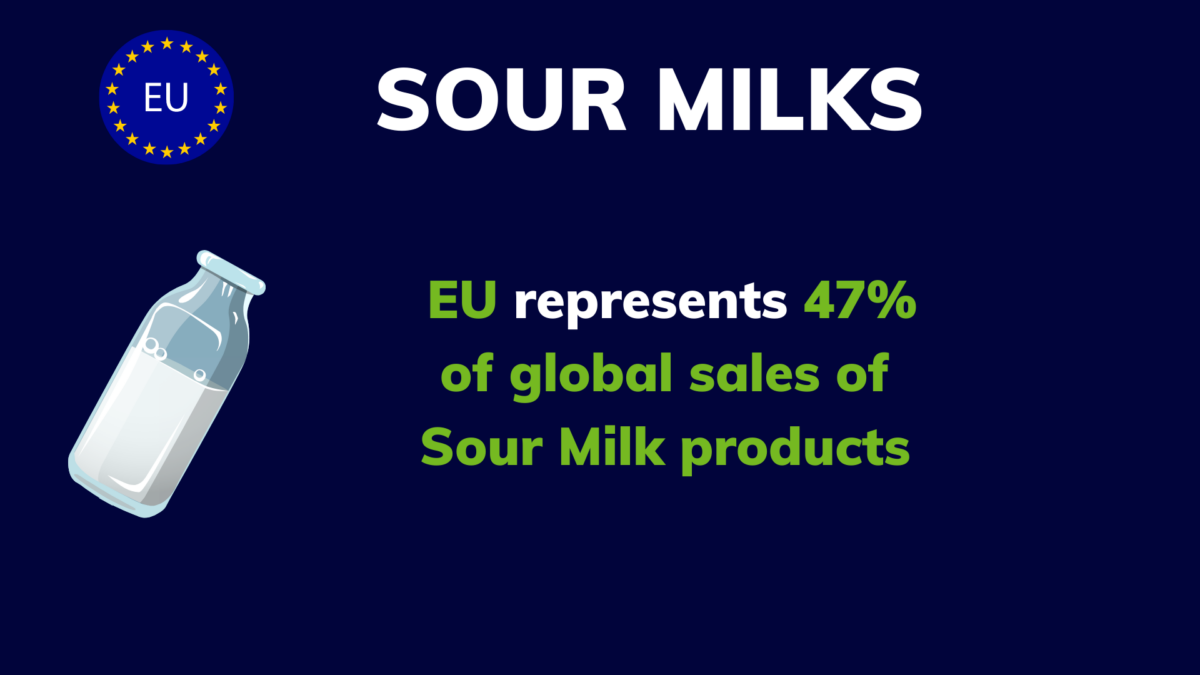 Northern Europe is also performing well, with Sweden boasting a top 4 market size on sour milk products in the world, despite the country having a population of just over 10 million. Denmark also has a large sour milk market relative to its population size. Its market size went from 87,4 EUR million in 2018 to 93 EUR million in 2021.