Probiotic Foods in the EU
In the EU, Probiotic foods, mainly fermented milks and supplements, fall within the scope of the General Food Law. Communication on the nutritional & health effects of probiotics is regulated by the Nutrition & Health Claims Regulation 1924/2006 (NHCR):
Food business operators have to obtain a prior-authorization from the EU Commission to be entitled to communicate on the beneficial effects of their products on the product label or in advertising, ie Health claim approval.
NHCR applies to nutrition claims (such as "low fat", "high fibre") and to health claims.
---
Probiotic Foods in the EU: the regulatory framework
Almost 400 health claim applications with probiotics have been submitted for authorization. Only one was authorized – an article 13.1 claim on live yoghurt and improved lactose digestion for the microorganisms L. delbrueckii subsp. bulgaricus and Streptococcus thermophilus (minimum 108 CFU/g ).
Scientific Opinion on the substantiation of health claims related to live yoghurt cultures and improved lactose digestion (ID 1143, 2976) pursuant to Article 13(1) of Regulation (EC) No 1924/2006 (Link).
All other probiotic health claims applications have been either rejected or withdrawn due to the uncertainty of the assessment of EFSA. The most common reason for rejection was the insufficient characterization, but in some cases, application on well-characterized microorganisms were also rejected. As there is no health claim authorized for individual strains (excep. the yoghurt microorganisms), probiotic is considered by the European Commission as a health claim.
However, in recent years different approaches have been developed by EU Member States.
---
Probiotic Foods in the EU: the EC Guidance of 2007
EC Guidance on the Regulation N° 1924/2006 on nutrition and health claims made on foods
A claim is a nutrition claim if in the naming of the substance or category of substances, there is only factual information (Nutrition claims examples: Contains lycopene; Contains lutein)
A claim is a health claim if in the naming of the substance, or category of substances, there is a description or indication of a functionality or an implied effect on health.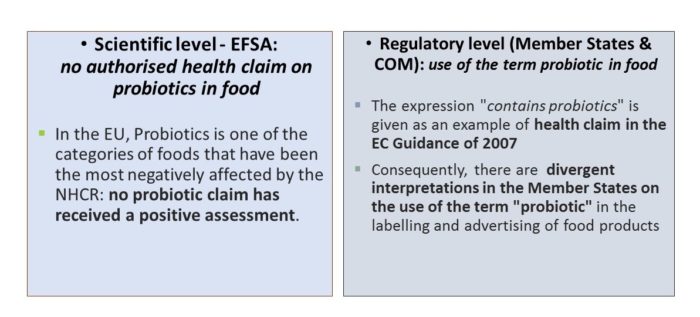 Enabling consumers to make a responsible choice
The EU Regulation on the provision of food information to consumers (FIC, EU 1169/2011), in whereas 17 states that:
'The prime consideration for requiring mandatory food information should be to enable consumers to identify and make appropriate use of a food and to make choices that suit their individual dietary needs.'
The lack of a clear communication for the probiotic category is not helping consumers in making responsible choices.